In July, I was fortunate to have a few days of vacation in Door County, Wisconsin. The wonderful thing about this well-known peninsula is that it allows visitors to enjoy the beautiful coastlines of both Lake Michigan and Green Bay. Most people who travel want to get that one truly great photo which summarizes their vacation experience. My photo was of an iconic sunset along the bay at Ephraim harbor. Where will you take your next great vacation photo? Our summer newsletter has details on how you can secure your space to see the 2020 Passion Play in Oberammergau, why you should apply now for the TSA Pre-Check, what to do if your purse or wallet is stolen, 8 reasons to love Basel, travel specials and the latest Virtuoso travel magazines. There is only 1 ˝ months left of longer days, warmer temperatures and beautiful summer sunsets. Enjoy!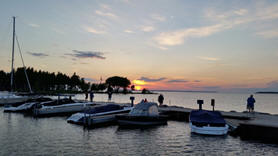 OBERAMMERGAU 2020-In the town of Oberammergau, a historical event takes place only once a decade; an enlightening and dramatic production of the Passion Play. Performed just once every 10 years, the community comes together in recognition of their deliverance from the Great Plague of 1634. Trafalgar guests have been part of this spectacular event since 1970 and they invite you to enjoy this momentous experience with them in 2020. You will not only see the Passion Play, but, also meet the people from the town, learn about their local culture and discover this picturesque region. I have personally experienced the Passion Play in Oberammergau and it is a very moving experience. Trafalgar offers 9 different itineraries which will include the Passion Play. I can either email you an e-brochure or mail you an actual brochure. You are able to secure your space at this time. Please contact Pam for more information.
TSA PRE-CHECK-On July 26, 2017, the Transportation Security Administration (TSA) began to implement new, stronger screening procedures for carry-on items that require travelers to place all electronics larger than a cell phone in bins for X-ray screening in standard lanes. In standard screening lanes, TSA officers will be stationed in front of the checkpoint X-ray machines to guide passengers through the screening process and recommend how best to arrange their carry-on items for X-ray screening. Travelers are encouraged to organize their carry-on bags and keep them uncluttered to ease the screening process and keep the lines moving.
If you have not already applied for the TSA Pre-Check, I would highly suggest to apply now. The cost is only $85.00 for five years. If accepted, there will be no need to remove, shoes, belts, light jackets, laptops or 3-1-1 compliant liquids. Go on to their website at https://universalenroll.dhs.gov and to find out the nearest enrollment center by you. You are able to fill out the application online, set up an appointment and find out which documents to bring with you to the appointment. Enroll now to become part of an expedited screening program that provides for a better air travel experience.
WHAT TO DO IF YOUR PURSE OR WALLET IS STOLEN-We know it can happen and should be prepared if it does. I recently read an article in the Chicago Tribune which gave expert tips on what you should do if this situation arises.
*Report the theft to the police and make sure you receive a case number. If your identity is stolen, a police report provides evidence in your favor. Also, if you are able to file a homeowners report to replace the cost of your purse or wallet, smartphone, driver's license, replacement keys, etc. you will need a copy of the police report.
*Have your mobile phone company reset your missing phone to factory settings.
*Call the issuers of your credit and debit cards to report them stolen. Please note this is different than canceling them, which could affect your credit report. Have compromised accounts closed.
*Contact your state's motor vehicles department to report your license stolen.
*Keep an eye on credit card statements, bank accounts and credit score.
*Start the ongoing work of contacting all companies and utilities that access your now-closed cards for automatic payment.
DESTINATIONS BY DIXON SMALL GROUP EUROPEAN CHRISTMAS MARKET TOUR
We still have availability for our 2017 small group Christmas Market tour. This exclusive tour is personally designed by Pam Dixon and cannot be found with any other major tour operator. The group will stay in the romantic, wine region of the Mosel Valley in the village of Cochem. Enjoy day trips to Aachen, Trier, Traben-Trarbach and Mainz, as well as, an excursion to Maria-Laach Abbey and Marksburg Castle. The dates of the trip are December 2 to December 9, 2017. The group size is limited to 10 people. Please contact Pam with any questions and for the complete details and costs.
CURRENT SPECIALS-Please note all specials are subject to change, based on availability and restrictions apply.
Trafalgar-Preview 2018 Europe and Britain. Book your 2018 travel at 2017 prices on an authentic, effortless and fun vacation with Trafalgar. Must book by September 24, 2017. Also, if you pay in full by January 11, 2018 you can save an additional 10 percent. Past Trafalgar guests receive 5 pct. off their 2018 land price. The best thing about booking early is your price is guaranteed even if regular trip prices increase with the release of the 2018 brochure. So what are you waiting for? Call Pam to secure you 2018 travel and save you money!
Funjet Vacations-Take advantage of savings up to 65 pct. plus additional exclusives on your 2018 vacation with Funjet Vacations. Travel dates: 12/28/2017 through 04/02/2018. Book by 08/17/17.
Holland America-Book your next Holland America cruise during their Explore 4 (Sip, Dine share & Save) sale. The sale is their best offer of the season! Choose from 600+ cruises and get all four: Signature Beverage Package, Dinner in The Pinnacle Grill, Free or reduced fares for 3rd/4th guests and 50 pct. reduced deposit. Book a suite and receive all 4 plus $200 in onboard spending money per suite. Offer ends 11/17/17.
United Vacations-Book a flight and hotel package in the continental U.S. and save up to $250.00 per reservation. Travel now to 03/31/18. Book by 08/17/17.
United Vacations-Island hop in Hawaii and save up to $300.00 when you book a flight and hotel package. Travel now to 04/30/18. Book by 08/17/17.
VIRTUOSO TRAVEL MAGAZINES
Virtuoso Life August 2017-"A Catalog of Gourmet Getaways"
Virtuoso Traveler August/September 2017
c